---
Welcome to In Tune
We help you find the You in Music
---
---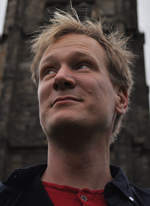 In Tune, founded by Fredrik Holm, is a company that works with sound and music as a portal to help people find their unique voice.
We are all the same, yet distinctly unique. In Tune believes that we first show our true selves when we manage to let go of fear and dare to express ourselves by first connecting with our 7th sense (the inner sound).
In Tune offers assistance in this endeavour and provides a wide range of "tools" to help us release fear, connect, and explore the depths of who we are in both enjoyable and profound ways.
Here is a selection of what we offer:
- Conducting Services for all types of ensembles and choirs
- Music Workshops
- Music Tuition (£17.50 per half hour)
- Sound Readings (£40 per 40 minutes)
- A Sound Awareness Course (£65 per day)
- Sound Walks
- Composed Music
- Concerts
- Sing-Alongs
- Recorded Music
---
Vision:
World Peace
Mission Statement:
A School that works with the Universal Laws to create Joy
Strap-line:
Music for Joy
Unique selling point:
In Tune teaches students to find their own voice
---